1 to 1 Personal Consultation With Math Scholar Tutor To Help You Ace Your Math Examination In 30 Days Or Less!
Dear all O levels and IP4 students, 
You have less than 30 days to your O level Math exam paper. Are You Ready? If you are still struggling with your math topics and on the verge of giving up… DON'T!
You can be the next student who jump from a pass to an A grade in the next 30 days or less!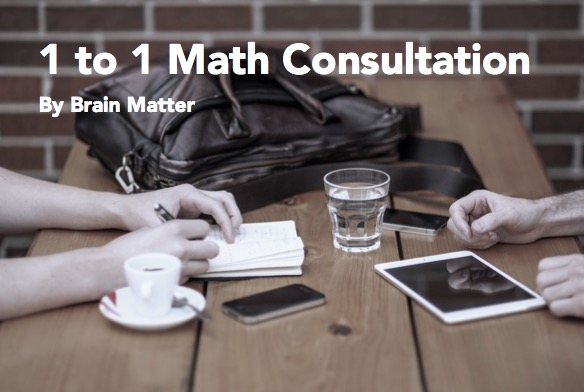 At BrainMatter, our math tutor have helped many students turn over their grades from 'failed to borderline passes' to As within 30 days before the exam day. This is possible not because of mass group tuition, but 1 to 1 personalised consultation.
With 1 to 1 intensive consultation, you can expect
100% personal attention from the tutor to help you
Tailor-made sessions to improve your weakest topics
Practice papers to prepare you for the final exam
Your Math Scholar Tutor
As a MOE Scholarship Holder, Ms Phoebe has more than 10 years of teaching experience and has helped hundreds of students from secondary to JC levels improve their Math grades in BrainMatter.
She believes in creating an environment of teaching that encourages independent learning. Applying deliberate questioning techniques in her teaching, she helps her students derive answers without spoon-feeding them.
Consultation Details:
a. Minimum of 2 hours for each consultation session.
b. Students can book any number of sessions they want
c. Students have the option to do the following:
1. Topical revision
Includes going through summary of key concepts, different question types, common misconceptions, problem solving skills, guided critical thinking
2. Exams Papers Consultation
Going through student's mistakes, clarifying of key concepts involved, summary of related topics, problem solving skills, guided critical thinking, time management skills
(students must bring completed exams papers if they opt for this option)
Venue:
Brain Matter Tuition Centre @ Block 120, Bishan Street 12, #01-69, Singapore 570120.
Note: Consultation sessions may be limited or stopped once the tutor's schedule is filled up. Register fast! 
How to apply?
1. Fill up the application form below or call/SMS 9791 1234
2. The tutor will contact you to confirm the sessions
3. Start your consultation
[contact-form-7 404 "Not Found"]