Specially For Upper Secondary Students…
Discover How Your Child Can ACE His/Her Geography and Social Studies Paper And Pull Up The Overall Humanities Grade In Our
Social Studies Intensive Revision Course
Conducted by a highly-qualified and experienced Social Studies teacher, Mr Alvin Tan, this intensive course will allow your child to focus on the specific module he/she needs to score As in Geography and Social Studies. 
"The teacher's explanation of the abstract concepts during the SS intensive course has helped me a lot. I used to be unsure of how to write and phrase my answers but she has helped me with the writing structure and thinking process."
Is your child able to fully comprehend the scope of the Social Studies syllabus?
Is your child confident in giving higher level answers and scoring the maximum marks for his/her source based questions in the exams?
Does your child have real world examples at your fingertips that he/she can use to support his/her points in the structured response questions?
If your answer is 'no' to any of the above questions, Brain Matter is holding a series of Pre-Exam Boosters in March that are designed to bring you up to speed in the shortest amount of time.
This course is suitable for both secondary 3, 4 and 5 students.
We have conducted Humanities revision courses every year since 2013, and have helped hundreds of Sec 4 & 5 students pull up their overall Humanities Grade in O levels.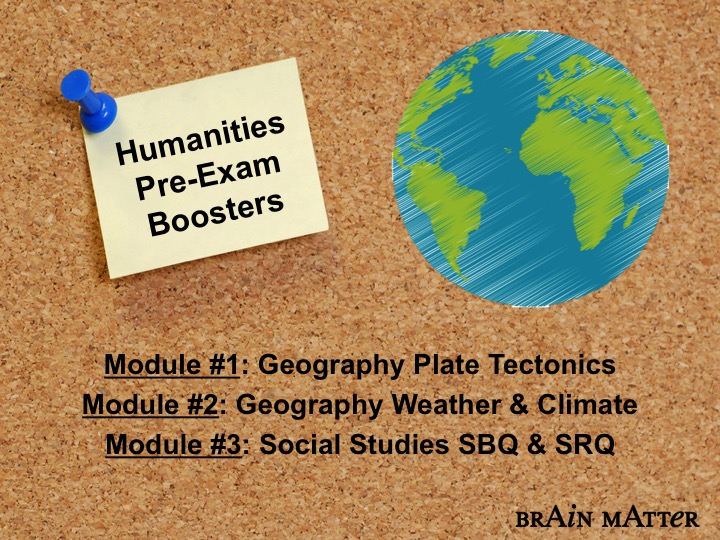 Module #3: Social Studies SBQ & SRQ Workshop (3hrs) 
Suitable for Sec 3, 4 and 5 Students
Especially useful for candidates preparing for O levels
Ever wondered why despite trying so hard, your scores for SBQ and SRQ questions remains unsatisfactory? There is a smarter approach to doing SBQ and SRQ. Come to this workshop if you are looking to master the techniques to handling different types of SBQ and SRQ questions. Workshop comes with revision package and tips on question answering techniques for:

Course Details:
Date: 7 April 2019 
Time: 10AM – 1PM
Module Fees: $140 per module only (inclusive of all learning materials)
Venue: Block 503, Bishan St 11, #01-448 Singapore 570503(Next to S11 Coffeeshop)
You will be entitled to a

10% discount

if you bring a friend! 
About the Teacher
Mr Alvin Tan
(Secondary Social Studies, Geography)
MOE Scholar, 2009
National University of Singapore (NUS) – Double/Joint Degree Program for Liberal Arts
Double Degree with Honours for Geography (specialisation in Medical Geography) conferred by National University of Singapore (NUS) and University of North Carolina (UNC; Public Ivy League University in USA)
Post Graduate Diploma in Education, NIE
More than 6 years of teaching experience in MOE schools
Mr Alvin Tan was a subject head for humanities and have managed the geography curriculum and programs for many secondary schools. He believes that doing well in humanities goes beyond route learning and memorization and teaches in a fashion that makes geography fun, applicable to daily life and easily understood. His lessons are always accompanied by comprehensive notes that goes beyond the textbook to give his students the edge over others in national exams. Under his guidance, batches of students have graduated with distinction for their humanities and pure geography. In 2018, Mr Alvin was also awarded the Caring Teacher Award organised by NIE.
How To Register? 
We are limiting the Intensive Revision Course to only 6 students per class so as to ensure maximum engagement and coaching to our students.
Registration will close on 29th March or earlier when all places are taken up. Your seat is only confirmed upon payment.