Specially For Upper Secondary Students…
Discover How Your Child Can Prepare Himself/Herself to ACE Social Studies in 2022!
Conducted by a highly-qualified and experienced Social Studies teacher, Mr Noel Ong, this workshop will allow your child to focus on the skills he/she needs to score As in Social Studies.
"The teacher's explanation of the abstract concepts during the SS intensive course has helped me a lot. I used to be unsure of how to write and phrase my answers but she has helped me with the writing structure and thinking process."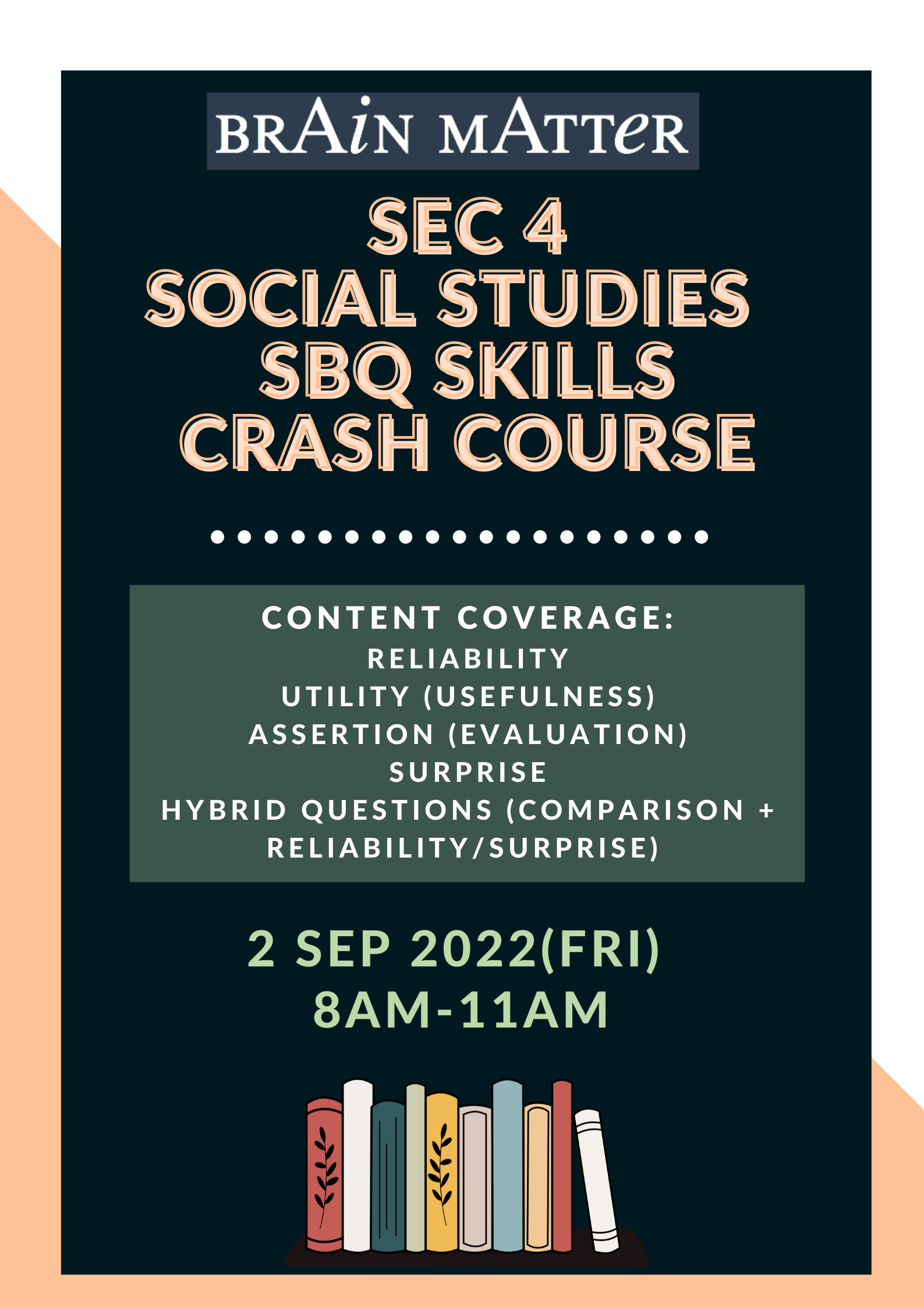 Sec 4 Social Studies SBQ Skills Crash Course
This course is for students who are in Sec 4 Express, are sitting for their O/N level examinations in 2022, have not been scoring well in SS, and are worried about SS pulling down what might be a strong Combined Humanities mark.
Note: Skills taught in this course are equally applicable to answering History SBQ
This course is built on the assumption that all the basic SBQ skills brought over from lower secondary/secondary 3 are sound, but the newer SBQ types taught in Sec 3 and 4, such as higher level answers for:
Reliability
Utility (Usefulness)
Assertion (Evaluation)
Surprise
Hybrid questions (Comparison + Reliability/Surprise) 
… are still a matter of uncertainty to students and they wish for more reinforcement.
Date: 2nd Sep 2022 (Fri, School holiday due to Teacher's Day)
Time: 8am-11am
Course Fees: $130 (inclusive of all learning materials)
In-depth notes will also be provided with these lessons. These notes will be suitable for revision of these topics at/for the O level examinations. 
About the Teacher
Mr Noel Ong
(Secondary Social Studies, History)
Bachelor of Arts and Social Science, NUS (Majored in Political Science and English Literature, Minored in History)
Post Graduate Diploma in Education, NIE
More than 18 years of teaching experience in MOE schools
Mr Noel Ong is a NIE-trained MOE teacher who has more than 18 years of teaching experience. Having spent all his 18 years teaching in a typical Singapore neighbourhood school, he has much experience in raising the grades of students who were formerly struggling with SS and History. He was teaching SS when the subject was introduced in 2001, and so has a wealth of knowledge concerning how this subject is taught, examined and assessed. Mr Noel is also very well versed in the current SS syllabus (rolled out in 2016) as he was part of the team of MOE teachers selected to evaluate the textbook as it was being written, and also to pilot the lesson plans and materials that were included with the syllabus text. Finally, he strongly believes that both SS and History need not be dry or 'boring'; What could be more interesting than learning more about your country, your world and the story of mankind?
How To Register? 
We are limiting the Intensive Revision Course to only 10 students per class so as to ensure maximum engagement and coaching to our students.
Registration will close on 20th August or earlier when all places are taken up. Your seat is only confirmed upon payment.