Specially For Upper Secondary Students…
Discover How Your Child Can ACE His Social Studies Paper And Pull Up The Overall Humanities Grade In Our
Social Studies Intensive Course
Conducted by a highly-qualified and experienced Social Studies teacher, this intensive course will allow your child to focus on the specific module he needs to score As in Social Studies. 
The teacher's explanation of the abstract concepts during the SS intensive course has helped me a lot. I used to be unsure of how to write and phrase my answers but she has helped me with the writing structure and thinking process."
Does your child feel overwhelmed by the scope of the new Social Studies syllabus and not know where to start?
Are source based questions causing your child to lose precious marks in your exams because he/she could not get the higher level answers?
Does your child have real world examples at your fingertips that he/she can use to support his/her points in the structured response questions?
Is your child able to discuss societal issues in Singapore such as the controversy over the reserved presidential elections and CPF policies with ease?
If your answer is 'no' to any of the above questions, Brain Matter is holding a series of highly focused crash course in September that are designed to bring you up to speed in the shortest amount of time.
This course is suitable for both secondary 3 and 4 students.
We have conducted this Social Studies intensive course every year since 2013, and have helped hundreds of Sec 4 & 5 students score higher in their Social Studies, and pull up their overall Humanities Grade in O levels.
Below are just some of the results achieved by Brain Matter students in their O levels.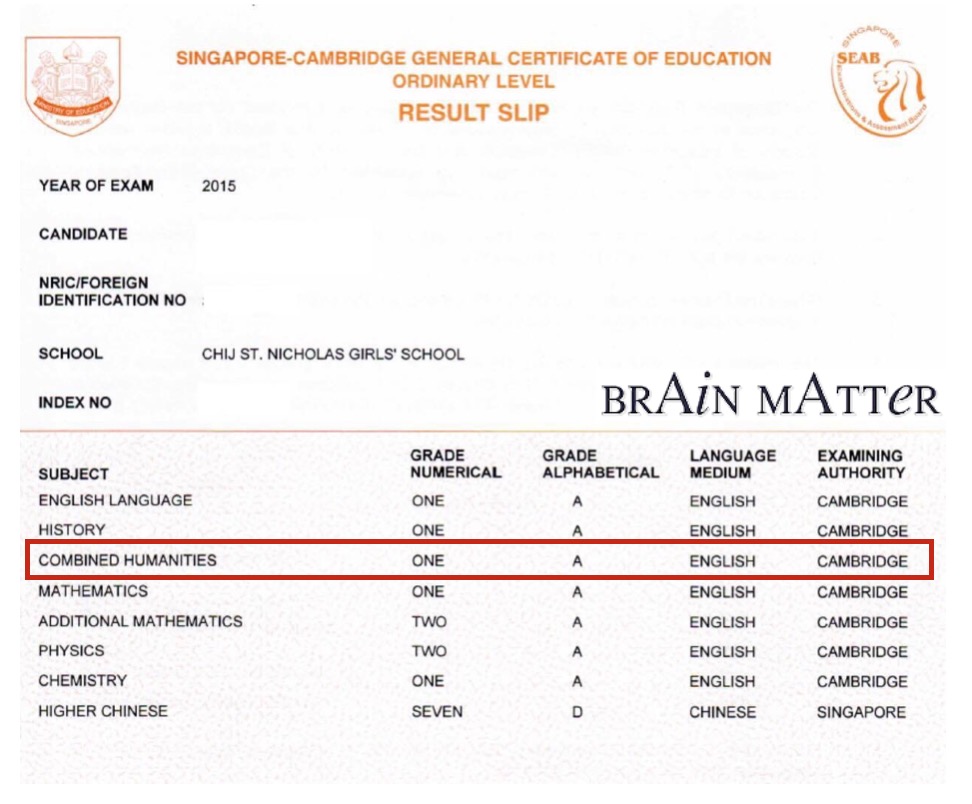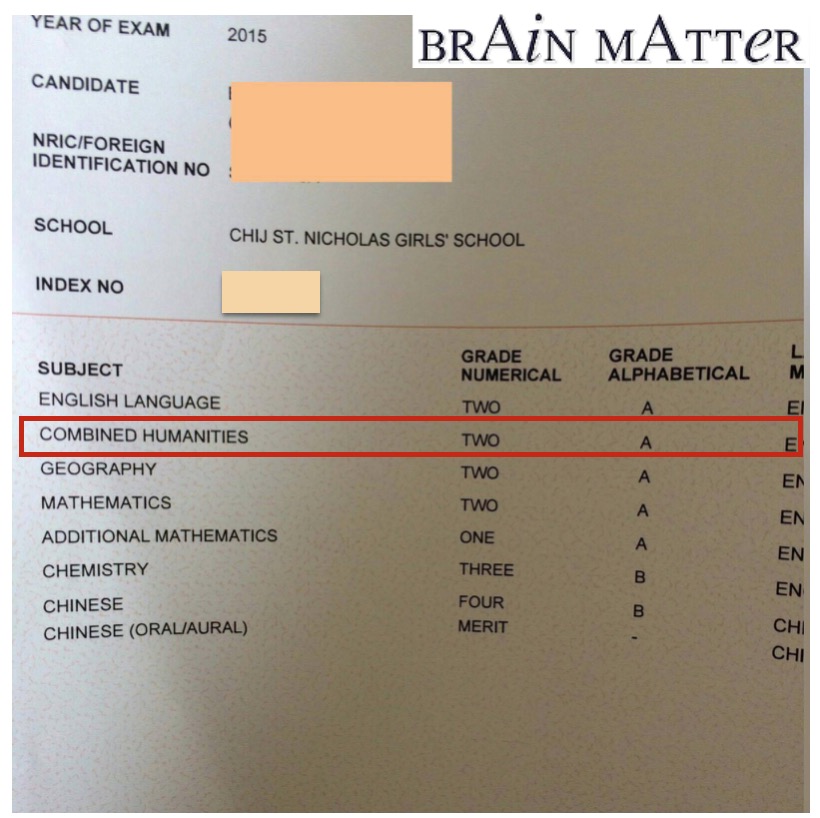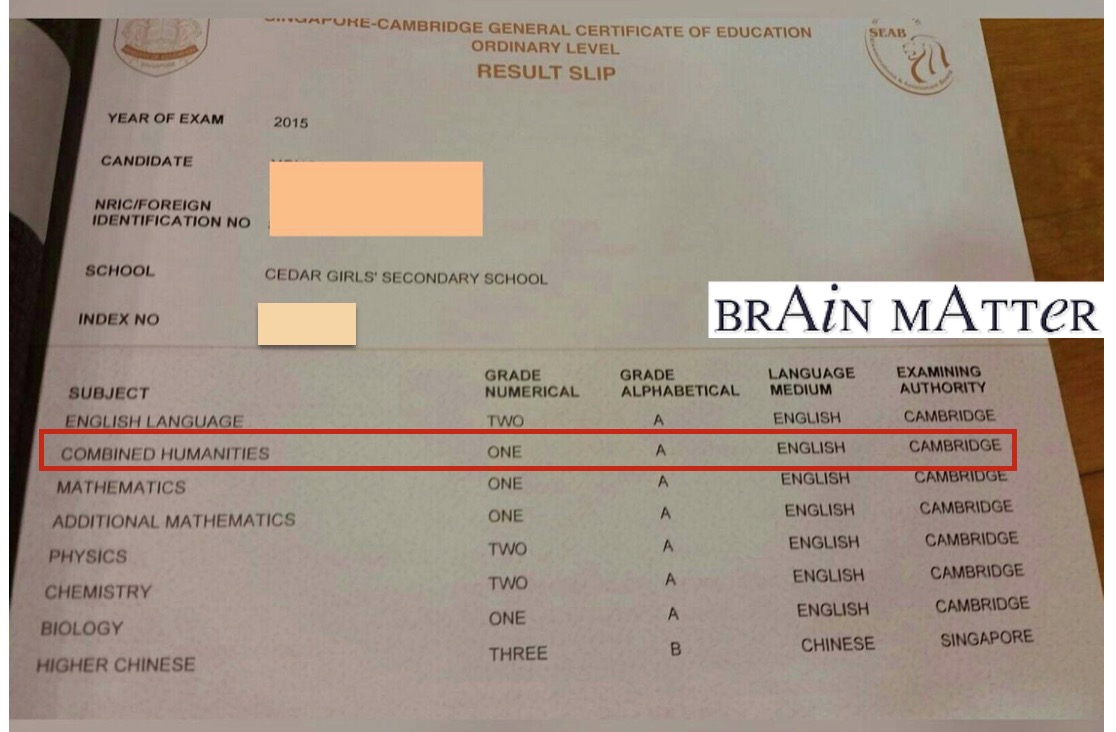 Your child can achieve similar excellent results if he/she possesses the right techniques and skills to tackle the challenging questions.
Don't wait any longer. Sign up your child for the intensive course below.
Your child can select the specific modules which he/she needs the most help in:
Course 1034: Citizenship and Governance
Duration: 3 hours
Timing: 8 September, Friday, 2-5pm
This course explores the idea of citizenship, the functions of the government and how they govern. It covers all the key concepts found in issue 1 of the syllabus. This course will be taught through a discussion of real world examples and students will have a hands on practice in using these examples to answer the given the structured essay questions. In the last part of the course, students will learn how to evaluate the relative importance of the factors. This course is suitable for both secondary 3 and 4 students.
Course 2034: Diversity in Society
Duration: 3 hours
Timing: 7 September, Thursday, 6-9pm
This course surveys the diversity found in Singapore and its implications for our society. It will cover all the key concepts found in issue 2 of the syllabus. Real world examples will be used in this class and students will also get a chance to look at this issue from a comparative perspective. The second part of the course will see students approaching the question of how do we ensure that differences do not become divisive. The merits and drawbacks of the various approaches will be considered.
Course 3004: Two Faces of Globalization
Duration: 3 hours
Timing: 8 September, Friday, 6-9pm
This course covers all the key concepts found in issue 3 of the syllabus. After a short survey of the history of globalization, students will explore the economic and political/security impacts of this phenomenon. Students will also understand the difference between cybercrime, cyberwarfare and cyberterrorism. Due to the broadness of this issue, this course will draw on links to the first two courses and is targeted exclusively at secondary 4 students.
Course 3134: Current Affairs for Exam Purposes
Duration: 3 hours
Timing: 9 September, Saturday, 3-6pm
This is a current affairs course designed to help students attempt the first question in the structured response questions segment. In order to do well for this question, students need to be widely read and have a good understand of what is going on in their society. Through this course, students will learn how to answer questions that ask for causes, consequences or solutions to a societal issue. Students will end off by engaging in a short marking exercise to help them understand the components of a good answer.
Course 4134: Fundamental Source Handling Skills
Duration: 3 hours
Timing: 10 September, Sunday, 10am-1pm
This course covers three fundamental skills that are needed to answer all types of source-based questions. Those skills are making inferences, making comparison and checking the reliability of a source. The focus will be on making inferences and students will start off with making inferences on the message of the source and branch out to making inferences on the purpose and tone. More interestingly, students will pick up some tips on how to analyze political cartoons. Once the skill of inference has been mastered, students will learn the answer structure needed for comparison questions and also the steps needed to assess the reliability of a source. This course is suitable for both secondary 3 and 4 students.
Course 4104: Advanced Source Handling Skills
Duration: 3 hours
Timing: 10 September, Sunday, 2-5pm
This course builds on the previous course and students will learn how to answer utility and surprise questions. They will also learn to answer the assertion question. As the assertion questions make up 20% of the total marks for their social studies paper, it is imperative that students master the skills needed for this question type. Tips will be given on how to ace this particular question. At this level, time management strategies will be emphasized.
This Intensive Course is for: 
Secondary 4 and 5 students who do not want their low grade in Social Studies to pull down their overall Humanities grade, and want to an notable jump in Social Studies grade for their end of year school examination or O levels in 2017.
Experienced Social Studies Teacher
As a MOE-trained teacher in the new syllabus, Mr Kelvin is up-to-date with the requirements and tips to excel in Social Studies. Students praise him for his ability to teach in a clear and concise way that is easy for them to understand.
Under his guidance, students learnt different effective techniques to tackle different kinds of challenging questions, enabling them to score the maximum marks. He is currently the Social Studies Teacher anchoring the Secondary 4 SS classes at Brain Matter.
Course Details:
Course Fees: $120 per module only (inclusive of all learning materials)
Venue: Brain Matter Tuition Centre @ Block 120, Bishan Street 12, #01-69, Singapore 570120. (5mins walk from Bishan MRT)
Timing: Do note that the timings for individual modules are subjected to change depending on the signup rate.
How To Register? 
We are limiting the Intensive Course to only 8 students so as to ensure maximum engagement and coaching to our students.
Registration will close on 5th Sept or earlier when all places are taken up. Your seat is only confirmed upon payment.
Fill up the form below and we will contact you to confirm your slot.
.