Especially for students who wants to be equipped with practical skills for Presentations…
Discover How Your Child Can Excel in their Project Work

!

 

With recent changes in Education Policy, schools are now shifting from timed tests to alternative modes of assessment. The most popular of these is project work. Working in teams, students solve problems or come up with new ideas, and show these off in the form of a public presentation. Ideally, project work is fun, engaging, and allows students to bring their different strengths to the table.

But students are notoriously bad at this.

Ineffective slides, poorly-edited videos, lifeless speeches… the list of problems goes on. Students end up frustrated. Some give up.

It shouldn't be this way.

Project skills are important, even for adults, and the sooner students become masters of project work, the better their lives will be.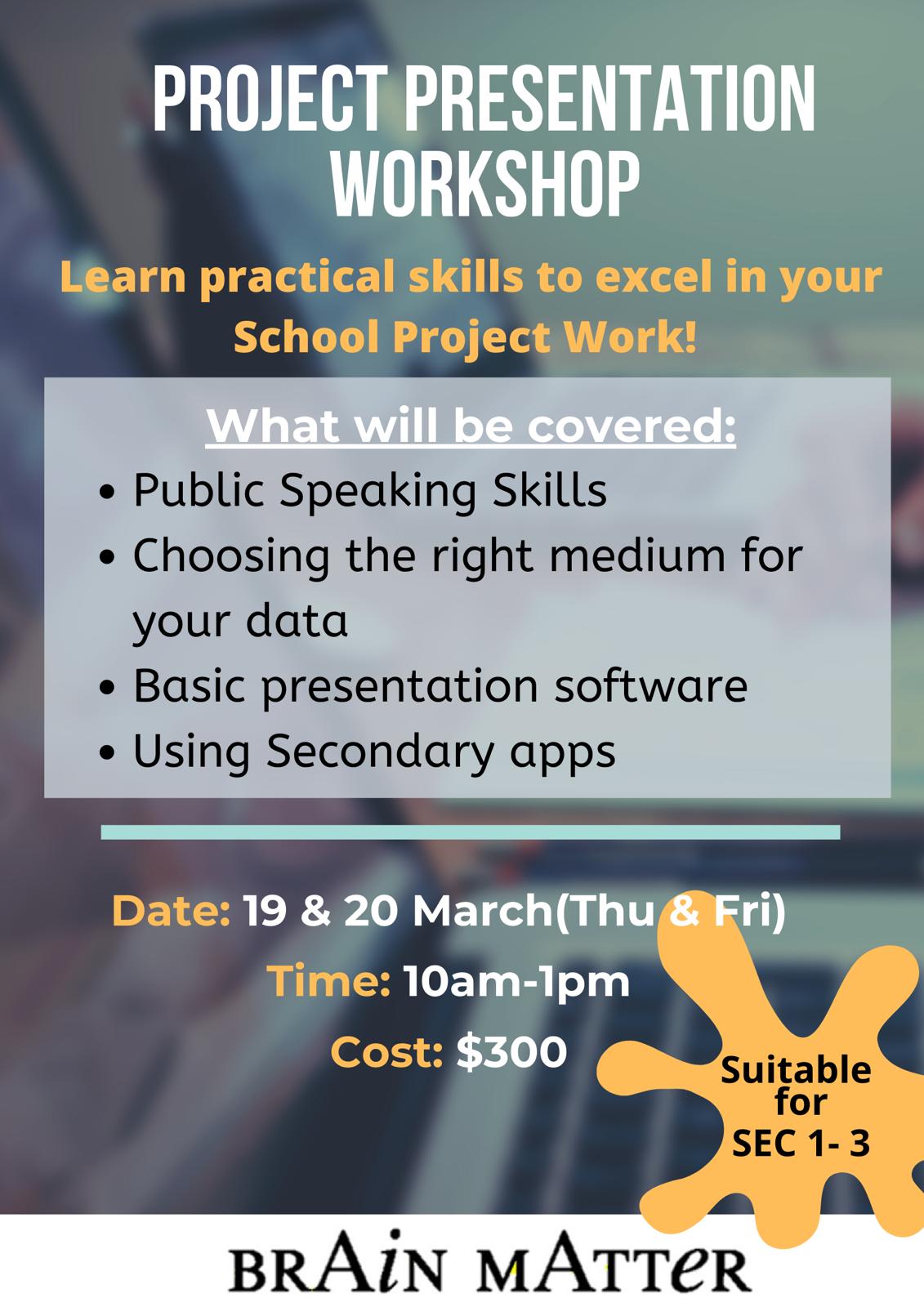 Topics covered
Public speaking skills (

Script-Writing, Posture, Voice Projection, Audience Engagement, Choosing the right medium for your data)
Basic presentation software
Using Secondary Apps
The focus of the workshop is not on the technology. Students will not be learning advanced skills in Movie Maker or Adobe Spark Video. Rather, the workshop focuses on how to turn your project into a compelling narrative, and use technology, as needed, to help tell that story.
About the Teacher
Ms Natasha
Ex-MOE (English) Teacher with more than 7 years of experience
Bachelor of Arts, NUS
Work Experience in Special Education
More than 7 years of teaching experience
Ms Natasha has a proven track record in improving students' grades. She ensures students retain and apply knowledge by relating ideas to their personal experiences and opinions, and by breaking down complex concepts into structured concrete steps. Her interest lies in making learning bother relevant and enjoyable. Her current pursuits include the applications of technology and game design in classroom learning.
How To Register? 
We are limiting the Workshop to only 10 students per class so as to ensure maximum engagement and coaching to our students.
Registration will close on 12 March 2020 or earlier when all places are taken up. Your seat is only confirmed upon payment.