Specially for students who feel they need a breakthrough in their studies …
Discover How Your Child Can Be Motivated To Reach His/Her
GREATEST POTENTIAL!
Motivation is the difference maker in academic pursuits and success. When students become masters of self-motivation strategies, students of "average" intelligence can far exceed their potential. Even students of high intelligence will become even more excellent in their studies.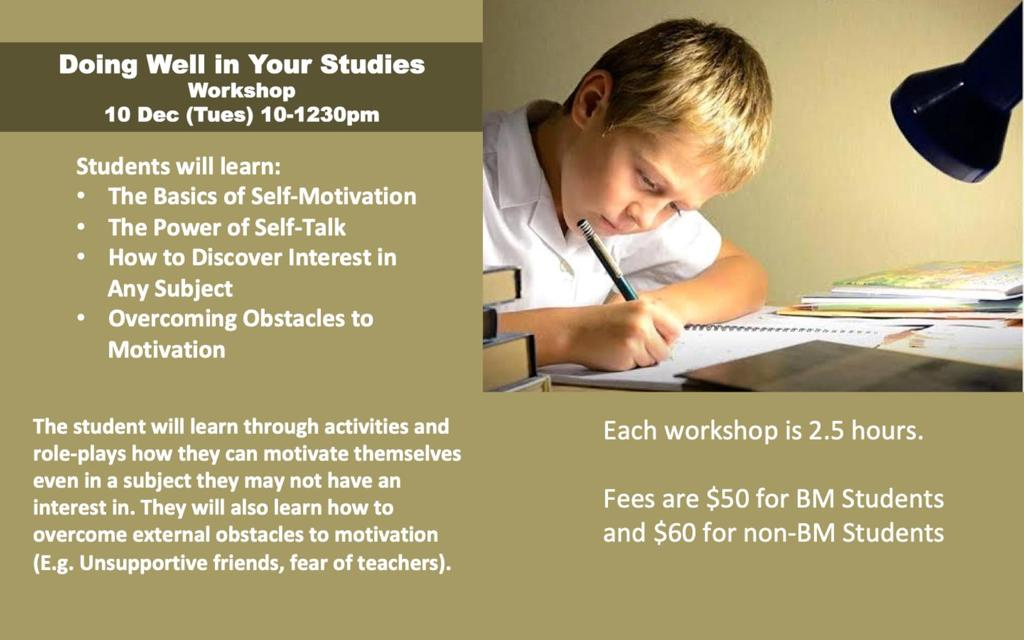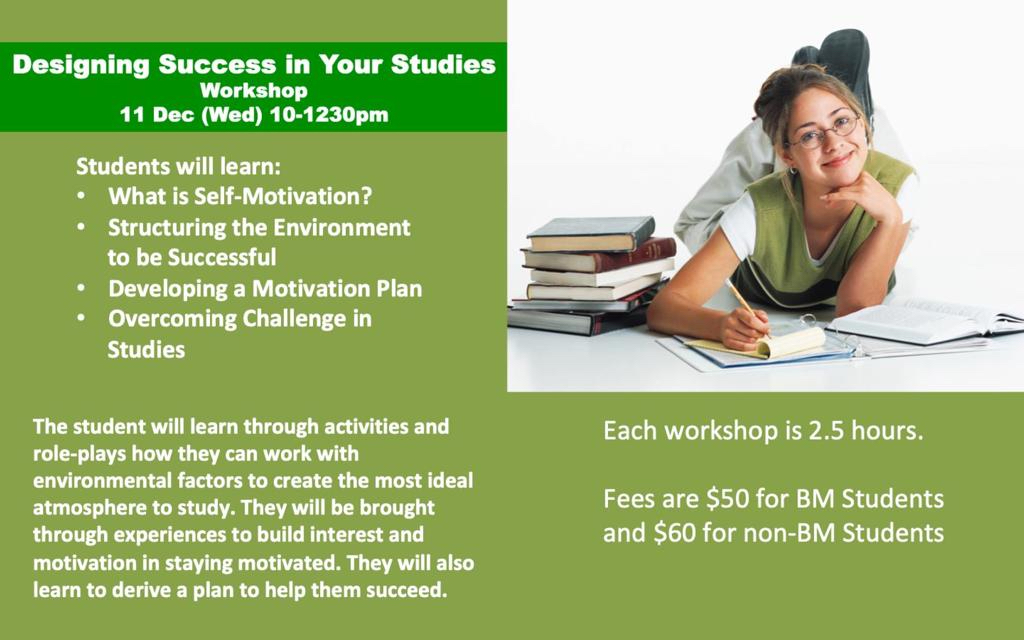 Bringing out the BEST in me (Primary School)
Primary School Students will learn:
The Basics of Self-Motivation
The Power of Self-Talk
How to Discover Interest in Any Subject
Overcoming Obstacles to Motivation
Students will learn through activities and role-plays how they can motivate themselves even in a subject they may not have an interest in. They will also learn how to overcome external obstacles (E.g. Unsupportive friends, fear of teachers) to motivation.
Design for Success (Secondary School)
Secondary School Students will learn:
What is Self-Motivation?
Structuring the Environment to be Successful
Developing a Motivation Plan
Overcoming Challenge in Studies
Students will learn through activities and role-plays how they can work with environmental factors to create the most ideal atmosphere to study. They will be brought through experiences to build interest and motivation in staying motivated. They will also learn to derive a plan to help them succeed.
Details of Workshops
Dates: 10 December (Tues) for Primary School, 11 December (Wed) for Secondary School
Timing: 10am-12.30pm
Cost: $50 for Brain Matter students, $60 for non-Brain Matter students
Venue: Block 503, Bishan Street 11, #01-448, Singapore 570503. (2 mins walk from Bishan MRT, next to S11 Coffeeshop)
About the Life Coach
Mr Darren Tan
Certifications
Master Practitioner of Neuro Linguistic Programming (Society of NLP, USA)
Certified Action Learning Coach (World Institute for Action Learning, USA)
Certified Family Coach (Focus on the Family, Singapore)
Certified Process Facilitator (Dialogue, Singapore)
Certified Master Trainer "The Heart of Success" (Focus on the Family, Singapore)
Certified Facilitator "Love Notes" (Ministry of Social and Family Development, Singapore)
Certified Facilitator "Parenting with Confidence" (Focus on the Family, Singapore)
Certified Associate for Emergenetics
Certified Associate for Extended DISC
Qualifications
B.Soc.Sci. (Honors) in Social Work (National University of Singapore)

Graduate Diploma in Human Resource Management (UniSIM, Singapore)

Advanced Certificate in Theology (Oral Roberts University, USA)

Diploma Pastor's Course (Livets Ord University, Sweden)

Graduate of Singapore Command and Staff College (SAFTI Military Institute, Singapore)
Mr Darren has been involved in Coaching, Training and Conference Speaking for the last 30 years. He has spoken extensively on overcoming challenges, transformational leadership, personal mastery, enriching relationships and innovative change. His passion in life is to help the individual achieve an integrated life, with their work and life in synergy, mutually reinforcing each other to achieve optimal fulfilment.
His training is in Social Work, which also includes special programmes in Quality in the Workplace and also Youth Work. In addition, he is also trained in counselling, family therapy and human resource management. He is a Master Practitioner of NLP and an Action Learning Coach. I am also certified in the Emergenetics and Extended DISC Profiling Tools.
As a certified Family Coach with Focus on the Family, Singapore, he is also a certified facilitator for the 3 levels of "Parenting with Confidence" workshops for parents with children between the ages of 0-6, 7-12 and 13-18 years of age. I am a Family Life Ambassador with the Ministry of Social and Family Development since 2006.
Mr Darren is also an active NSman, having served for the last 29 years. He holds the rank of Lieutenant Colonel and was the Commanding Officer of a NS Infantry Battalion of 800 men. Using the strategies that he believes in, he led his battalion with excellence and created a culture that was different from the others. In 2016, he was awarded the SAF NSman of the Year. In 2017, he was awarded the Pingat Perhargaan (Tentera) or the Commendation Medal on National Day by the President of Singapore, and also appointed by the Ministry of Defence as a Commitment to Defence Ambassador to inspire the next generation in schools and military units, in the defence of Singapore.
How To Register? 
We are limiting the Motivation Workshop to only 10 students per class so as to ensure maximum engagement and coaching to our students.
Registration will close on 1st December or earlier when all places are taken up. Your seat is only confirmed upon payment.