Mathematics Tuition Classes
Currently, Brain Matter offer math tuition classes for the following levels.
Primary School Mathematics
Lower Secondary School Mathematics
'O' Level Secondary School Elementary Mathematics
'O' Level Secondary School Additional Mathematics
Junior College H1/ H2/ H3 Mathematics
Mathematics for IP
SL/HL Mathematics for IB
Polytechnic Engineering Mathematics for NYP
How does Brain Matter help students to excel in Mathematics?
Our 5A's Pedagogy (see below) allows us to provide personalized coaching to our students.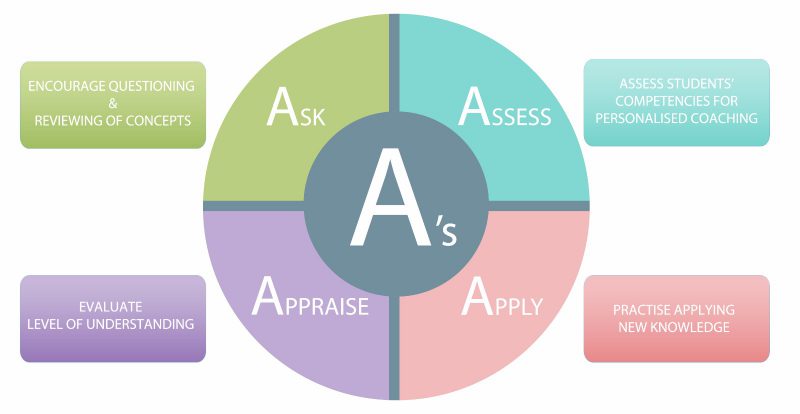 Every piece of homework and sample questions are specially given that are pitched at our students' ability. Most importantly, our teachings are examination-oriented, where we focus on examination questions and train our students to excel in them.
To make learning more effective, we connect our teachings to real life examples that help students appreciate learning and make the process more memorable for them.
Our students will be able to handle challenging questions in exams confidently by using the problem-solving techniques taught by our teachers and applying the mathematical concepts learnt to real life situations.
You can find out more about our Math Resources by clicking here.
Frequency and Duration
Once a Week, 2 hours
Frequently Asked Questions
How are students taught?
The students are taught based on their individual school syllabus. We teach by consultative approach, which means we do not conduct our classes like what the MOE schools and what most tuition centres will do.
Through our 5A's Pedagogy, we seek to evaluate students' ability, review concepts, clear doubts and expose them to exams-based questions. This method is only possible with a small class size(of not more than 5 students).
Our teachers feel that this way is more effective in helping our students, as most of them do not need to relearn everything taught in school and thus 'wasting' precious time in our tuition classes. We go straight into equipping our students with the skills and knowledge to excel in exams.
Who will be teaching the Mathematics Classes?
Mr Calvin is teaching our Primary Math classes. Using real life examples to explain mathematical concepts, his teachings never fail to leave his students loving mathematics more than before. He also uses exams questions to teach concepts and allow students to apply their understanding in those questions.
Ms Phoebe, Brain Matter's Director, is teaching our Secondary, IP and IB Math classes. She's a passionate MOE- trained educator who's also a Teaching Scholar. Having a vast experience in teaching students of varying abilities, from IP/IB to Normal Academic and Technical background, she is able to help every type of students because of her flexible and fun teaching style.
Mr Sng is teaching our JC Math classes. With more than 10 years of experience, Mr Sng understands the stress and the lack of time that JC students experience. Hence, his teaching is very exams-oriented. He helps students to understand concepts in the shortest time and trains them to do well in exams.
Mr Marcus is teaching our Polytechnic Engineering Math Classes. Being a polytechnic graduate who has topped his cohort and selected in the Director's List, he knows clearly how to excel in this particular area in math and is definitely the best teacher to teach our Polytechnic Students.
Click here to find out more about our Mathematics Curriculum Specialists
My child has slight learning difficulties. Are your classes suited for him/her ?
While Brain Matter does not have special classes for students with certain special needs, we believe every child has the right to receive a good education. As such, do contact us to further discuss how we can cater to your child's learning needs.
What are the syllabus for Mathematics?
How do I sign up for the tuition classes?
You can contact us here or give us a call at 97911234 to find out about the class schedule and fees.
Start Scoring A's with Brain Matter