Specially For Upper Secondary Students…
Discover How Your Child Can Prepare Himself/Herself to ACE Geography  in 2020!
Conducted by a highly-qualified and experienced Geography teacher, Mr Alvin Tan, these preparatory workshops will equip your child the skills to score As in Geography!
"Mr Alvin teaches in a way that prioritizes understanding over rote-learning. His lessons are engaging and have helped me understand and remember the content more effectively and efficiently. With his help, my result has improved from C to A! "
"Mr Alvin's explanations make complicated concepts simple. He breaks down a large topic into different clearer sub-components that help me to score my As in Geography!"
Embarking on Secondary 3 Geography next year? Heard from your seniors that the content for Geography can be quite heavy and the subject can be a lot tougher in Upper Secondary as compared to Lower Secondary? Fret not! Sign up for our preparatory workshops to get a leg up in 2020!
OR  
Taking the O levels next year and worried about how you'll do for Humanities? Is Geography the component that you struggle with? Fret not! Sign up for our advance preparatory workshops to get a leg up in 2020.
Our workshops will break down the entire O levels GE syllabus in a quick and easy to understand mindmap so you know what you're up against at a glance. The tutor, who is a highly experienced subject head for geography will also bring you through question answering techniques and formulas to help you score that A for geography.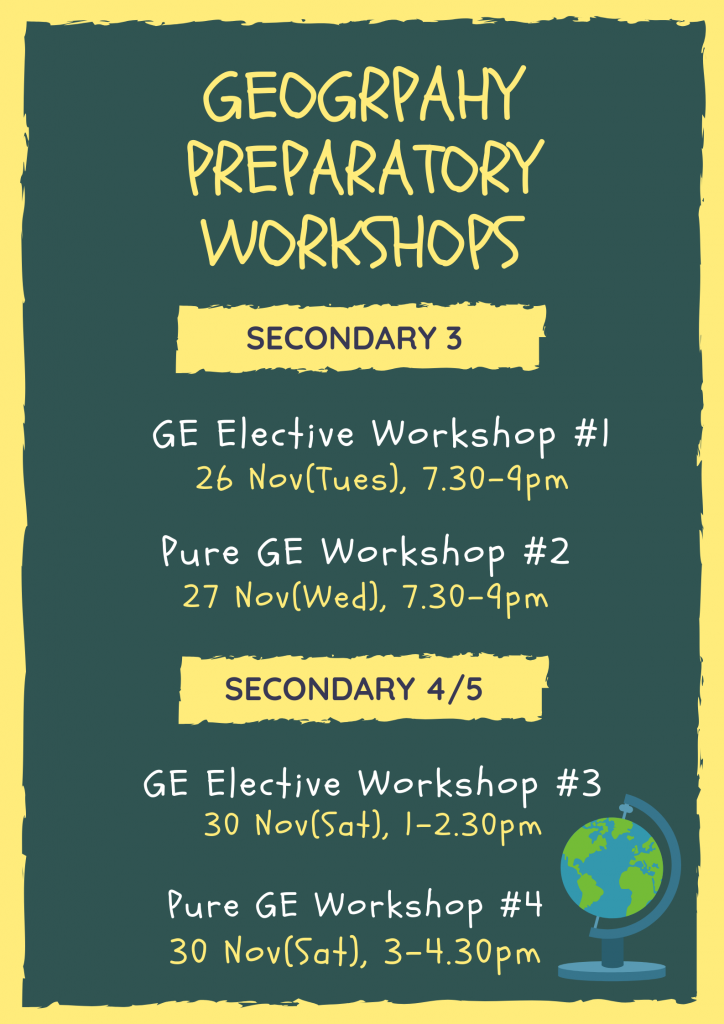 Sec 3 GE Elective Prep Workshop #1
26th November (Tuesday), 7.30-9.00PM

Suitable for Sec 3 GE Elective Students
Sec 3 Pure GE Prep Workshop #2
27th November (Wednesday), 7.30-9.00PM
Suitable for Sec 3 Pure GE Students
Sec 4/5 GE Elective Prep Workshop #3
30th November (Saturday), 1-2.30PM
Suitable for Sec  4 and 5 GE Elective Students
Sec 4/5 Pure GE Prep Workshop #4
30th November (Saturday), 3-4.30PM
Suitable for Sec 4 and 5 Pure GE Students
Course Details:
Module Fees: $70 per module only (inclusive of all learning materials)
Venue: Block 503, Bishan St 11, #01-448 Singapore 570503(Next to S11 Coffeeshop)
Sign up with a Buddy to enjoy a

5

% discount

each!
About the Teacher
Mr Alvin Tan
(Secondary Social Studies, Geography)
MOE Scholar, 2009
National University of Singapore (NUS) – Double/Joint Degree Program for Liberal Arts
Double Degree with Honours for Geography (specialisation in Medical Geography) conferred by National University of Singapore (NUS) and University of North Carolina (UNC; Public Ivy League University in USA)
Post Graduate Diploma in Education, NIE
More than 6 years of teaching experience in MOE schools
Mr Alvin Tan was a subject head for Humanities and have managed the Geography curriculum and programs for many secondary schools. He believes that doing well in Humanities goes beyond route learning and memorization and teaches in a fashion that makes geography fun, applicable to daily life and easily understood. His lessons are always accompanied by comprehensive notes that goes beyond the textbook to give his students the edge over others in national exams. Under his guidance, batches of students have graduated with distinction for their Humanities and Pure Geography. In 2018, Mr Alvin was also awarded the Caring Teacher Award organised by NIE.
How To Register? 
We are limiting the Intensive Revision Course to only 10 students per class so as to ensure maximum engagement and coaching to our students.
Registration will close on 15th November 2019 or earlier when all places are taken up. Your seat is only confirmed upon payment.